How can I order Tax Details or an Official Tax Certificate?
From either the property search results screen or from the property view screen, you can:
1. Order Tax Details; and

2. Order Official Tax Certificates
From the Property Search, search for your property, you can click on the 'Shopping Cart' icon to add items to your cart:

From the Basic Property Information View, you can Order Tax Details and Certificates:
1. Enter your Reference # (this is optional)

2. Click on:

a. Pay by Account; OR

b. Pay with Credit Card




PLEASE NOTE – in order to pay by account, you need to be logged in with a user account AND be associated with a company account. If you are not, you will receive the following message: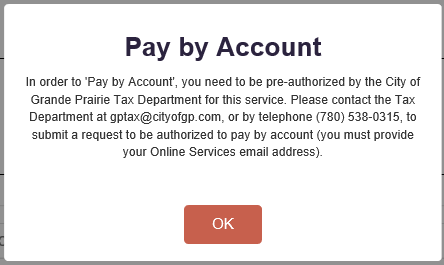 Once an item has been added to your cart, it will no longer be available to be added to cart to your cart:

For details on how to process your shopping cart, please see the Shopping Cart section.