How do I pay my parking ticket?
STEP ONE
From the homepage, click eServices.

Click 'Pay a Parking Ticket'.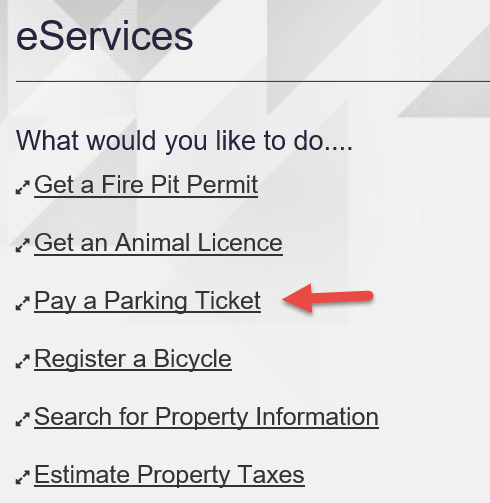 Click 'Search Parking Tickets'.

STEP TWO
Enter the Ticket Number or your Licence Plate and click 'Search'.

The system will find all tickets that match your search criteria.
STEP THREE
Add the specific ticket(s) you wish to pay to your Shopping Cart using 'Add to Shopping Cart'.

If you have mulitple tickets you wish to pay for at once, click 'Add all to Shopping Cart'

to add all tickets to your Shopping Cart.
Once a ticket has been added to your cart, proceed to the checkout to process your payment. For steps to complete this process, please see 'How can I pay for my Shopping Cart?'
STEP FOUR
Once you have successfully paid, eServices will send you an email notification with your parking ticket payment receipt attached.
If your ticket cannot be paid online, you will get the following message:

Please contact Enforcement Services on 780-830-5790.