How do I update my bicycle registration?
STEP ONE
Once you have logged in to your eServices account, click eServices.

Click 'Register my Bicycle'.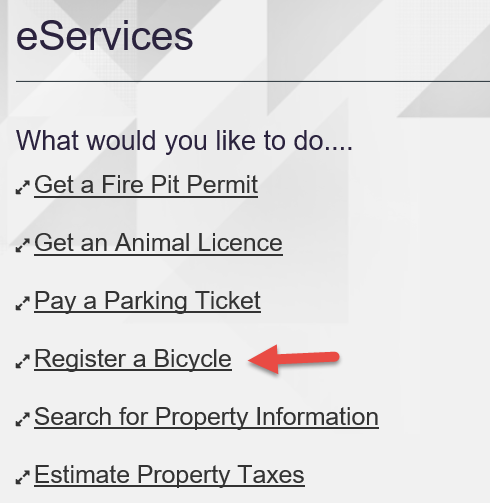 You will then see a list of your registered bicycles.

Click on the 'Update' icon.
STEP TWO
You can update any part of your bicycle registration. You can also:
1. Mark your bicycle as stolen.

If you mark you bicycle as stolen, please also contact Enforcement Services on 780-538-0300 to see if your bicycle has been recovered.

If necessary, report your stolen property to the RCMP detachment at 10202 99 Street.

2. Indicate that you no longer have this bicycle

If you no longer own the bicycle, then you will need to provide a reason (Lost, Trashed, Sold, Stolen and Not Recovered):
Click 'Update' to update your bicycle registration. You will receive an email notification confirming the details of your bicycle registration.