How can I replace my animal tag?
STEP ONE
Once you have logged into your eServices account, click eServices. If you did not create an eServices account when you registered your animal, you will not be able to complete this transaction online.

Click 'Get an Animal Licence'.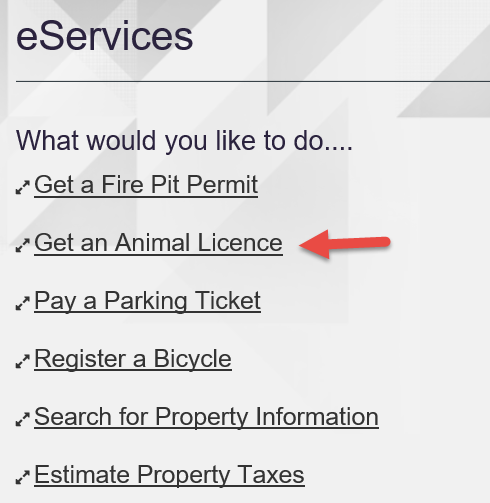 You will then see a list of your animal licences.

Click on the 'Tag' icon of the animal.
STEP TWO
Complete each section.
1. Terms and Conditions:

Please accept the Terms and Conditions.




2. Add to Shopping Cart:

Click 'Add to Shopping Cart' to add the tag to your cart.

If there are no fees to be paid, (if you have indicated that you are a senior or the animal is a service animal), then simply click 'Save'.



STEP THREE
Select 'Shopping Cart' to proceed to the checkout to process your payment. For steps to complete this process, please see 'How can I pay for my Shopping Cart?'
STEP FOUR
Once you have successfully paid for your animal tag, you will receive an email notification. The City of Grande Prairie will send your replacement animal tags, via mail to your nominated mailing address.